From the Founder...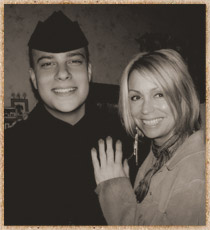 "The experiences and lessons I learned from working at a Humane Society, motivated my future. I have spent the past 4 years trying to make a difference. Dogs listen, love us unconditionally, are loyal and can be life saving. I am passionate about my goal of helping one dog at a time, and now one soldier and family at a time. I am proud to honor Ben and determined to carry on his legacy of helping others through Stiggys Dogs." Jennifer Petre Founder - Stiggy's Dogs
Help us out by clicking on the green button and re-tweeting this website to your followers. Every bit helps, thank you so much!
Sign up for Stiggy's Dogs Quarterly Troop Tails Newsletter!
Sign up here to receive the quarterly newsletter from Stiggy's Dogs. Stay up to date on all of the news and events for Stiggy's Dogs.
If you ever have any questions or concerns, contact us at info@stiggysdogs.org.